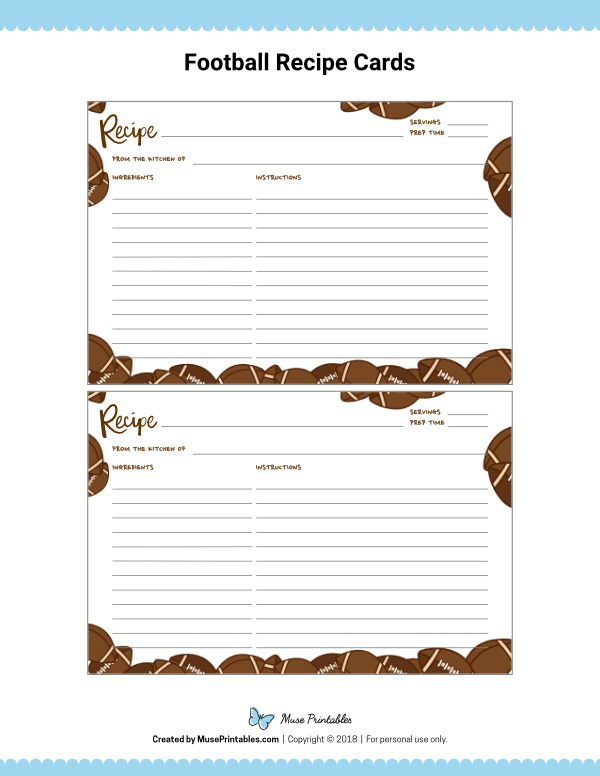 Football Recipe Cards
More Like This
Description
The recipe cards are 4 x 6 (inches) with two cards on a page. They can be edited in Adobe Reader. There are fields for entering the recipe title, source, number of servings, prep time, ingredients, and instructions. Text will resize as you type if you use Adobe Reader. Alternatively, you may write on the cards by hand. Print on card stock for best results. Read our support article about recipe cards for more information.
Free vs. Paid Comparison
The free version includes a watermark, while the paid version doesn't. Please test the free version prior to buying to make sure it works for your intended purpose.
Note that the copyright information and logo at the bottom of the page will not be removed from the paid version of the recipe cards. This part of the page is discarded when cutting the cards out. It won't affect your use of the cards.
Delivery Information
A download link will be sent to the email address you provide at checkout. Please make sure you enter a valid address. You should generally receive the email within a few minutes of ordering. However, please allow at least 30 minutes before contacting us about not receiving this email.
This is a digital product that you download. You will not receive a physical item via mail.
Support
We recommend editing the recipe cards with the latest version of Adobe Reader on a desktop or laptop. We are unable to assist you if you choose to use other software or edit the files on a phone or tablet. Read our article on using recipe cards for more information as well as tips on editing, printing, etc.
Support Limitations
If you purchase a premium version of a printable, you are only purchasing the files. We are unable to assist with software, troubleshooting printer issues, or anything similar. Read our support policies for more information.
Terms
Your use of our printables is subject to our licensing terms and terms of use.
Football Recipe Cards
More Like This